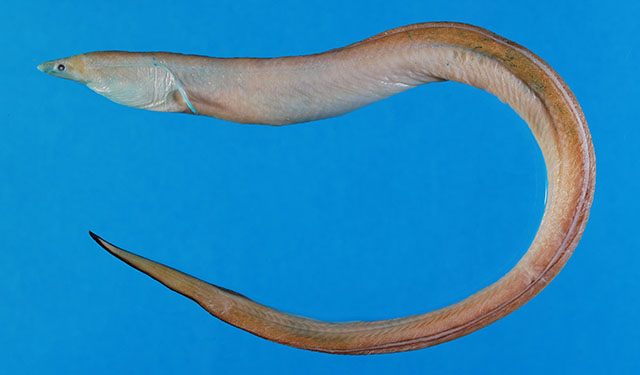 photo by Ho, H.-C.

Ophichthidae (Snake eels), subfamily: Myrophinae
30 cm TL (male/unsexed)
demersal; marine; depth range 2 - 3 m
Indo-West Pacific: India, Indonesia and western Malaysia. Also reported from Pakistan and Vietnam.
This species is distinguished by the following characters: body robust, its depth 19-32 times in TL; head length (HL) 7.8-8.5 in TL; pointed snout; well developed pectoral fin, which is longer than snout, 4.0-4.8 in HL; origin of dorsal fin relatively forward, 0.4-0.5 times HL behind gill opening; predorsal length 5.7-6.0 in TL; large gill opening, its height 6.8-8.5 in HL; teeth conical, slender, uniserial in jaws and vomer; total vertebrae 135-148; MVF 19-50-140; single median temporal and interorbital pores; supraorbital pores 1 + 4; infraorbital pores 5 + 1 (1 or 2 pores between anterior and posterior nostrils); mandibular pores 7; preopercular pores 2; supratemporal pores 3; cephalic lateral line pores 13 or 14; predorsal pores 20-22; preanal pores 51-54; when preserved specimens are pale brown dorsally and paler ventrally, with black posterior portions of dorsal and anal fins (Ref. 96531).
A small, burrowing eel which is active over soft sediments at night.
Not Evaluated (N.E.) Ref. (123251)
harmless
Source and more info: www.fishbase.org. For personal, classroom, and other internal use only. Not for publication.
Page created by Jen, 05.08.02, php script by kbanasihan 06/09/2010 , last modified by
sortiz
, 10/02/17